Core Developer & Maintainer of the open source project PrestaShop
I work on several Open Source projects: the PHPOffice library suite and the PrestaShop e-commerce solution.
Freelance
With more than 13 years of experience, I can bring you my expertise whether in the migration of legacy PHP projects, in the development of APIs, WordPress or PrestaShop modules. Do not hesitate to
contact me
.
Indie Maker
For several years, I have been designing and creating many projects: web or mobile applications, PrestaShop modules, ebooks.
Skills
CSS
Cascading Style Sheets (CSS) is a computer language that describes the presentation of HTML and XML documents. The standards defining CSS are published by the World Wide Web Consortium.
Git
Git is a software for tracking changes in any set of files, usually used for coordinating work among programmers collaboratively developing source code during software development.
HTML
The HyperText Markup Language, generally abbreviated HTML or in its latest version HTML5, is the markup language designed to represent web pages. This language allows: to write hypertext, hence its name, to structure the page semantically, to format the content or to create input forms.
JavaScript
JavaScript is a scripting language primarily used in interactive web pages and as such is an essential part of web applications. Along with HTML and CSS, JavaScript is sometimes considered one of the core technologies of the World Wide Web.
Hugo
Hugo is a static site generator written in Go.
MySQL
MySQL is a relational database management system (RDBMS). It is distributed under a dual GPL and proprietary license. It is one of the most widely used database management software in the world.
PHP
PHP is a popular general-purpose scripting language that is especially suited to web development. Fast, flexible and pragmatic, PHP powers everything from your blog to the most popular websites in the world.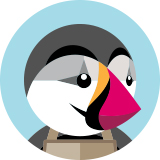 PrestaShop
PrestaShop is an open source web application that allows you to create an online store for the purpose of e-commerce. The application is published under the terms of the Open Software 3.0 license.
Sass
Sass (short for syntactically awesome style sheets) is a preprocessor scripting language that is interpreted or compiled into Cascading Style Sheets (CSS).
Symfony
Symfony is a PHP web application framework and a set of reusable PHP components/libraries. It aims to speed up the creation and maintenance of web applications and to replace repetitive coding tasks. It's also aimed at building robust applications in an enterprise context.
WooCommerce
WooCommerce is an open-source e-commerce plugin for WordPress. It is designed for small to large-sized online merchants using WordPress.
WordPress
WordPress is a free and open-source content management system (CMS) written in PHP and paired with a MySQL or MariaDB database. Features include a plugin architecture and a template system, referred as Themes.
Zend Framework
Zend Framework is a PHP framework created in March 2006 by Zend Technologies.